More Good News on Employment Front for TXST Grads
While we patiently wait for election results to start rolling in, I thought I'd share some more good news for our new media concentration grads. Last post, I told you about Maira Garcia and Jackie Baylon who had both gotten jobs in NYC, Maira as a Web producer for The New York Times and Jackie as a news producer for Digital First Media. (And both were initiated into NYC media during Hurricane Sandy!) I'd like to talk about a different direction that some of our students have taken in their career searches, and it is a variation from these roles that use digital media skills in reporting and journalism.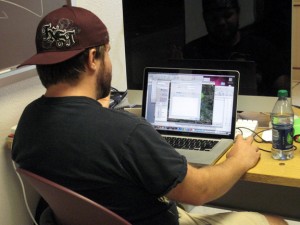 Several of our recent graduates have secured positions that highlight their advanced technology skills. Most recently, Ashley Hebler, who graduated with a Master's from TXST this summer, has taken a position as a Junior Front-End Web Developer at Volusion. Doug Seliger, who graduated in May, is working as a Junior Developer at Mason Zimbler (an interactive agency). Kiana Fitzgerald has been interning at Mosak Advertising and Insights in Web Development and Social Media Analytics. And Ryan Stewart has enhanced his internship at National Wildlife Federation to be a Web Contractor for them. Most recently, due to a connection made last week at Mass Comm Week, recent grad Shannon Delaney has already begun working at Mosak Advertising and Insights, for another grad from our program – Josh Shepherd. Shannon is Digital Marketing Coordinator for Mosak.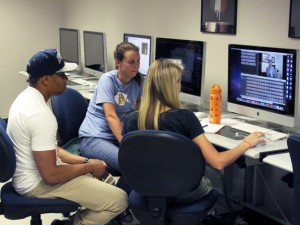 What warms my heart the most is the use of the words "developer," "digital," and "Web" in these titles and knowing the level to which these students are stretching their technical muscles in taking these positions. It has been a goal of mine to transform our program so that graduates could fill roles that required higher-end programming and data skills. These positions emphasize the skills we have been teaching in the tech realm in our program. I have spoken previously about the demand for developer roles at news organizations as demonstrated at www.newsnerdjobs.com, but these placements demonstrate the demand for these skills in a variety of communication organizations.
All these students have taken most of the following courses which encompass the majority of our new media concentration:
The photos in this post of the students I mention here demonstrate the range of activities one can expect in our program – both inside and outside of the classroom.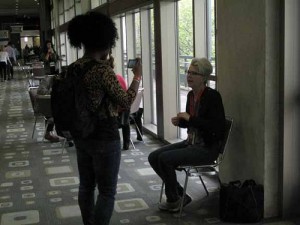 What each of these students has done is to take what they have learned in each of these courses and run with the skills beyond the classroom. They have executed personal projects, sought additional training and secured positions that allowed them to further advance their technological expertise. Another characteristic that I should note is that all these graduates volunteered for leadership roles in our experience learning projects, serving as project editor or leading development in either the SXTXState.com or the TXStateofChange.com projects. Achieving success in today's media environment requires commitment at this level.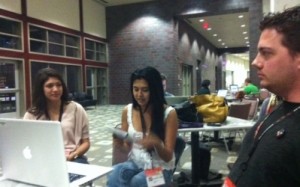 These placements also reinforce the value of offering advanced technology skills in journalism and mass communication programs. While I have touted the importance in closing the gender gap in technology (due to the high percentage of females in our discipline), this shows that this approach is not merely female-centric. The men in our program, who are tech savvy but were not attracted to a computer science major, benefit as well in being able to further their programming interests.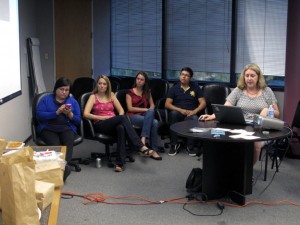 We've had a good deal of success getting students into roles like multimedia reporting and social media. But Web development and digital strategy represent the next steps in preparing future communicators.
As always, I am exceedingly proud of what our students do within our program and after they graduate. They are blazing the trails that future communication professionals will be following.