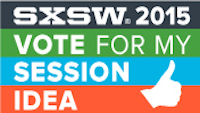 It's hard to believe that we are already talking about SXSW, but time to get on it. Panels were proposed in the summer and have been on review for community voting for the past few weeks. Perusing the PanelPicker is always a great way to gain a sense of current and important topics and a preview of what might be appearing at the conference in March. Voting is about to close, just extended through the weekend deadline of Sunday, Sept. 7, so take a look. There are more than 3000 ideas out there for Interactive alone!
As you might know, I lead a group of TXST students to SXSW each year with the SXTXState.com project. In the past couple years, a requirement of the course is to develop a proposal for a panel of your own. It's a wonderful circle of life to watch students go from SXSW newbie to immersed attendee to appearing on their own panel in the course of a year. Last year, two of the students had panels selected.
I hope you will take a look at the proposals from TXST students and faculty for the 2015 conference. We could use your votes and comments. Comments would really be appreciated. It's easy to do, once you are logged in on the site.
Will Digital Kill the Radio Star? Priscillia Seelan
How Digital Made Texas Competitive in 2014 Jordon Brown
Millennials, Communities and the Future of Brands Jon Zmikly
and me…
For Media, It's Platform or Perish – where I would be appearing with some very smart and awesome folks, Dave Cohn of Circa, Trei Brundrett of Vox and Katie Zhu of Medium.
Coding Across the Curriculum – this one is for SXSWEDU.
Your support would be most sincerely appreciated!