The Hipster Method of Education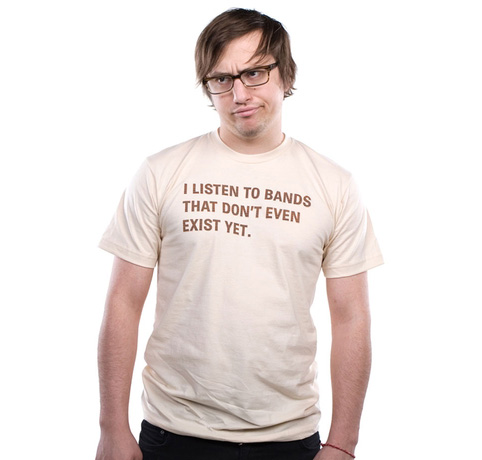 I have been thinking a lot lately about strategies for preparing students for the future. A few weeks ago, I had some recent alumni visit with my Fundamentals of Digital/Online Media class in conjunction with our student chapter of Social Media Club. Maira Garcia, who is the Social Media Editor at Austin American-Statesman, Mairin Heard, a social media specialist at HomeAway and Carly Smith, an account manager at the interactive agency Trademark Media came by to talk to students about their careers and give them tips on successful job searches. All three have both undergraduate and graduate degrees from our program. As I prepared the class for the panel, I began to consider how successful our program had been in developing graduates for roles that didn't exist yet or were just developing as these students entered and progressed through our program.
I have taken to calling this the Hipster Method of Education (you know, "I listen to bands that don't exist yet," thus the above photo). We are preparing students for jobs that don't exist yet. For example, Maira graduated with her Master's in 2009. That's the year that the Statesman first established a social media editor role. When Maira, Mairin and Carly started with us in 2003/2004 as undergrads, there was no Facebook, Twitter or YouTube. HomeAway didn't exist as a Web company until 2006. Tools they are using in their jobs every day, like Foursquare and Pinterest, have all cropped up since they graduated. You can see where we discussed this topic during their visit below (see more from the panel here).
It occurs to me that we have not only been training students to use and evaluate current tools and skills, we are giving them the critical capabilities to continue to grow and learn and adapt to an environment that is experiencing mass change. With that in mind, I tried to articulate some of the things we are doing to accomplish this:
An attention to technology as it relates to media. I find it important to discuss current events in technology and help students understand the roles the major players have held over the years. This also requires an understanding of the history and development of the Internet, Web and the ensuing companies and platforms. I help them make the connections, so that when Tim Berners-Lee talks about the future of the Web, they know he's actually the guy who invented it, or when Marc Andreesen starts a new venture, they know his first one was as a college student creating the first commercial browser (Netscape). As I write this post, Facebook is enjoying its IPO, and if we were in class, I'd be talking about the significance of this event as it relates to previous tech IPOs and the future of the company.
In many of my courses, I have students start off the class with a news item. Each student is assigned a news day. We spend a few minutes discussing. This starts the class off on a topic of the student's choosing and allows us to stay in touch with current events. I have actually had students ask me if they can meet with me on a regular basis after they graduate, just to keep up with and discuss technology news. That's one of the reasons that I set up a Facebook group that allows students from my Web and multimedia classes to stay in touch and to provide connections with students across the years. An offshoot of that group is that former students post job announcements and provide career advice. Many of them have been responsible for hiring or assisting with the hiring process of recent students. It has developed into a thriving and valuable community
An enthusiasm for the future of media. By discussing media in a broad sense, it becomes apparent to students that there is much opportunity to be gained as a media professional. This means helping them understand how the skills they are learning can be valuable in progressive tech companies and startups, as well as providing important insight to traditional media organizations in terms of entrepreneurship and creativity.
The importance of making things. Students learn to code with HTML and CSS. In our graduate program, they can progress to learn about Javascript, JQuery, PHP/MySQL and Ruby on Rails. In many cases, these are brief introductions with short exercises, but this exposure demystifies the programming realm for them. Even in more conceptual courses, students use blogging platforms and learn to embed their own media. They gain a new sense of confidence in their tech skills and begin to appreciate the need to do your own troubleshooting and problem solving. They can communicate well with people in technology roles, clients and customers, and management.
The value of interacting with technology professionals and becoming active members of the tech/media community. Our SXTXState.com project is one example. You can see where Maira, Mairin and Carly discussed their participation in that project below, and I was encouraged by the enthusiasm they still display when talking about that activity. But I also recommend to students that they attend local meetups year 'round and stretch outside their comfort zones. My opinion is that you get more value by attending an event where you are the least knowledgeable, than if you regularly frequent those in which you are one of the most knowledgeable. Austin has a slew of technology meetups around different platforms like Ruby, Python, Drupal and WordPress. The members are very welcoming and helpful. And, it's also a great way to meet people from different roles within companies that ultimately may be able to assist you in employment.
These are just a few ways that come to mind quickly. Somehow we are igniting passion and building confidence and that seems to be something that lasts long after students graduate. Maira, Mairin and Carly are just a few students who have been successful in moving into new roles and organizations. We've had students working at Convio, Spredfast, Gowalla, Mosak and more. They get hired as Web designers and social media managers at new and established companies. I'd be interested in how others are preparing students for the future. And, I'd be interested to hear from recent graduates as to the things that most help them prepare for jobs, responsibilities and companies that don't yet exist.
Update 5/31/12 – On my Advanced Online Media course site, I did a post on my experiences with experience learning throughout the semester with our SXTXState.com and TXStateofChange.com projects. It occurred to me that experience learning opportunities are also an important part of preparing students for jobs that don't exist yet, and that I should add it to the list above. Students need the opportunity to practice and be creative and innovative. I think we have additional opportunities in our curriculum to add valuable experiences, beyond recommending internships or encouraging participation in student media.
(Photo above from Threadless – get your Hipster T-shirt there)