Who's the Weirdest of Them All?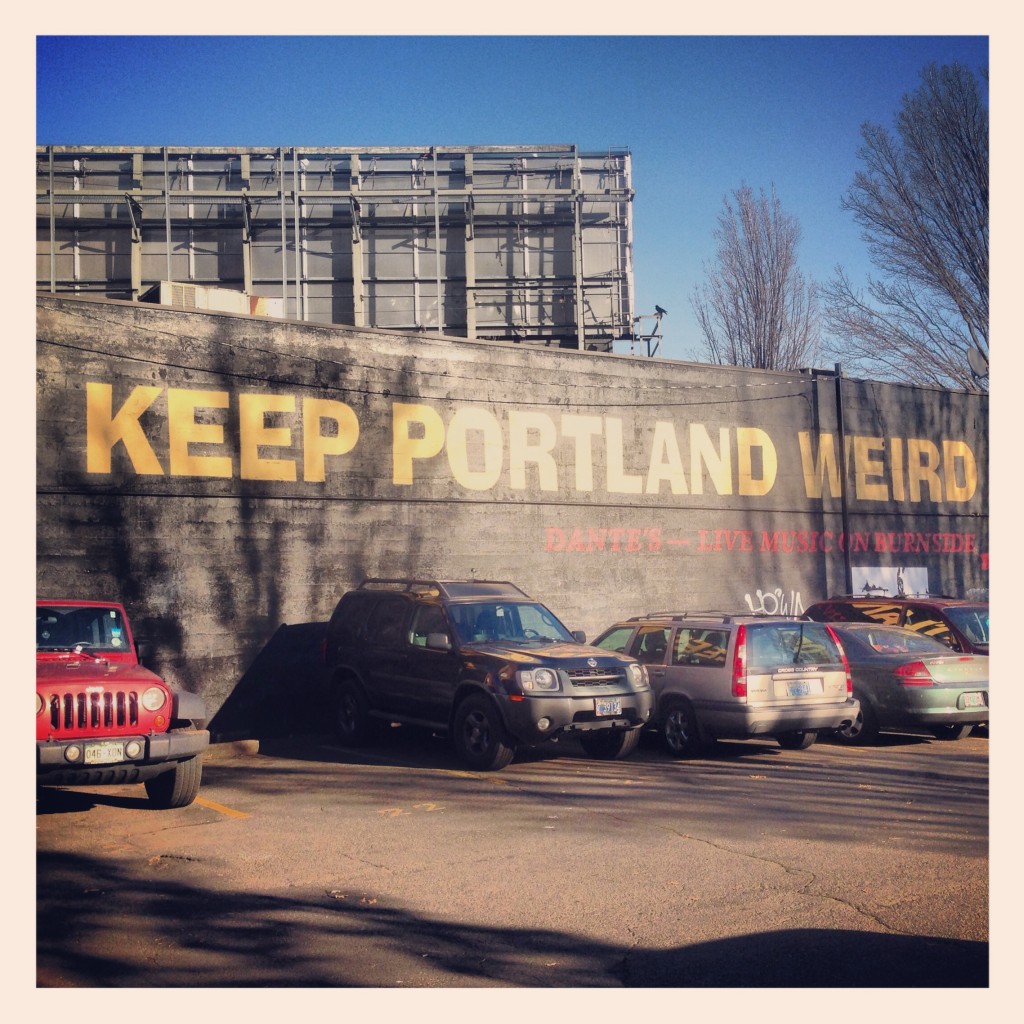 Taking a break from the tech talk and Stanford updates to discuss a very important issue – how does Portland compare to Austin? I have long wanted to visit Portland, and this past weekend, I finally got my chance. I was very excited to check out this city depicted in the hilarious Portlandia series and see exactly how "weird" it is. You see, more than 10 years ago, the slogan "Keep Austin Weird" started cropping up around town on shirts, mugs and the like. It was used to combat Borders Books desire to move downtown near locally owned BookPeople and Waterloo Records with residents wanting to keep the city focused on local businesses. It was catchy. Not only were we the live music capital, but we proudly wore our weirdness in public.
So, imagine our surprise in the Portlandia opening credits in seeing the "Keep Portland Weird" sign, which is outside Dante's, a music venue. So, I thought I would see for myself just how "weird" Portland actually is.
People – First of all, it's a lovely city with nice people – friendly, talkative, interesting. These are things that both cities have in common.
Downtown – Portland's downtown seems to have much more urban density, neighborhoods and places where people live. I feel it is more like a small NYC than Austin. But, with that, they definitely have more of a chain store presence – with a mall that has Gap, Macy's, Nordstrom, etc. Although this is convenient, it's not exactly in the original spirit of keeping things weird. The only "chains" you find in downtown Austin are a few Starbucks and a Subway or two. Whole Foods doesn't count. It's the headquarters! If you have been to downtown Austin, you know it is a weird hodgepodge of low slung western buildings dotted with a skyscraper here and there. It's the intersection of government, media, hippies, musicians, artists and tech people. Truly weird.
Mass Transit – This is where Portland shines. They have wonderful mass transit – trains and streetcars to take you just about anywhere you want to go in the city. It was a mere $2.50 from the airport to downtown, dropping me off 2 blocks from my hotel. Austin could use this. Get on it. Now! I also noticed a few Car2Go cars around the city, a service also available in Austin. I think I could have used my membership, but never really checked it out.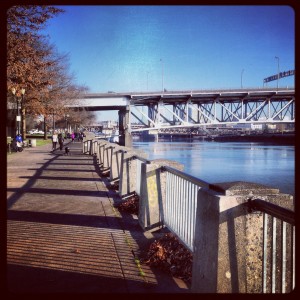 Waterfront – Both cities have beautiful waterfronts that have been developed for hiking and biking. Portland's is mostly paved with open spaces. They have good crossings for bikes and pedestrians over bridges. Very safe. But, if you have been to Austin, you know the beautiful green space we have on our crushed granite trail. So, while it's not great for street bikes, skaters or skateboards, it is a lovely urban retreat. Just need to get that Riverside extension finished and the Lady Bird Lake Hike and Bike Trail will be perfection.
Neighborhoods – My friend Laura, someone I knew way back when in Dayton, Oh, lives just over the state line in Washington. She came down to take me around the town. It was great to see her and catch up. We spent most of our time in the NE sector, off of Alberta Street. There were tons of shops and restaurants, things with birds on them, men with beards and tattoos… It definitely reminded me of my own neighborhood Hyde Park, with nice Craftsman houses. It was relaxed and pedestrian friendly.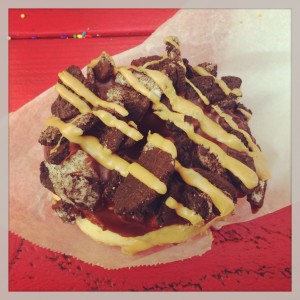 Restaurants – Portland has many of all kinds. We had lunch at Petite Provence, beer at Hopworks Bikebar and Base Camp, some decadent sweets at Saint Honore and a delicious salad and pizza at Oven and Shaker in the Pearl District. That was just one day. I had great breakfasts in downtown Portland at Sugar Mama's and The Roxy. And don't even get me started on those Voodoo Doughnuts. But Austin does have Gourdoughs, and we have tacos, bbq and margaritas. So, I think we can call this a tie.
Food trucks – Portland has tons, mostly organized into pods around the city. Many of them aren't actually trucks, but sheds or stands that aren't mobile. Austin has a ton of food trucks too, but we seem to have more interesting cuisines offered. I mean, we have Paul Qui!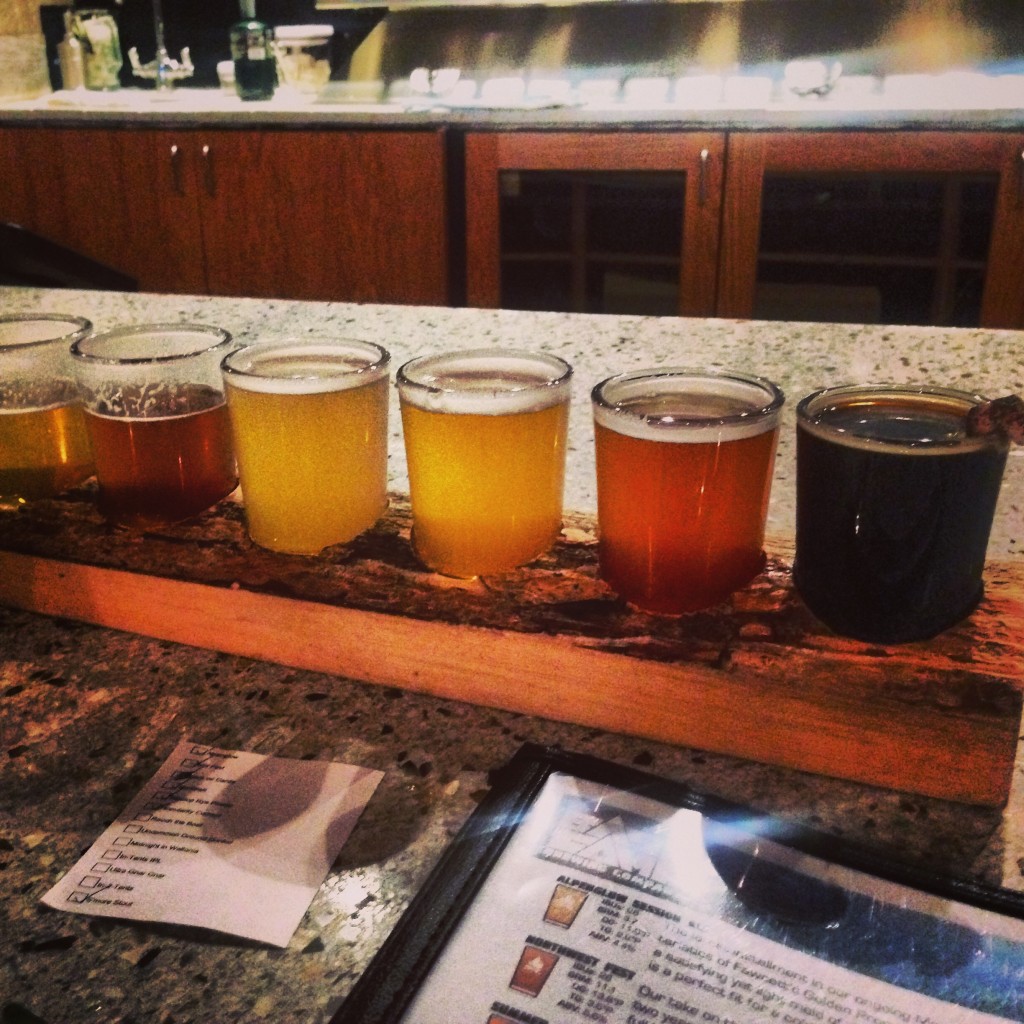 Whole Foods – Yes, Portland. You have a nice Whole Foods. But have you been to Austin? The downtown, flagship store of the chain is the mother of all grocery stores.
Music Scene – Sadly, I didn't get to see any shows. I know, blasphemy. But it appears from the Portland Mercury that there is a thriving music scene, a music scene that most cities would envy. But, compared to Austin… well, refer to the live music capital comment above. We have music districts with multiple venues right in the downtown, even with some recent relocations across the river. You can see anywhere from 20-50 bands a night. And while the Mercury is good, it's no Austin Chronicle. Austin wins this one.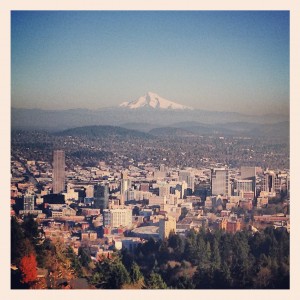 View – The view from Pittock Mansion over Portland is simply amazing, with Mt. Hood in the background. Austin does not have a snow-capped mountain nearby. Our view is nice from Mount Bonnell, but it's not like this.
Weather – It was chilly, but hey it's November, and I like it. It did not rain while I was there, and it was mostly sunny. I understand this is an unrealistic impression of Portland, but it is the one I will keep with me. At least it's not a blazing inferno hellscape in the summertime.
Books – Portland is known for Powell's. It's a huge bookstore, more than a city block. It has just about everything you could possibly want. BookPeople in Austin is not quite as big, but it feels more warm. Powell's is cavernous. But it is very nice to see a bookstore thriving in such an enthusiastic manner.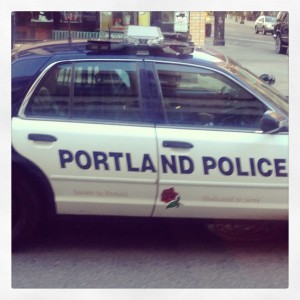 General Weirdness – I did see lots of homeless/street people, which is similar to Austin. Some were creative in trying to sell me newspapers and books. I saw what seemed to be a jovial hipster getting arrested on a Sunday morning (I don't know why) and some street people getting into a verbal disagreement. I saw lots of beardy guys, tattoos, bikes (lots of fixies), skateboards (we saw someone who appeared to be "moving" on a skateboard, hanging on to a car). The fashions were cool, lots of young, hip kids. The city has a great vibe. I felt instantly at home. If something were to go horribly awry with Austin, I could definitely imagine living in Portland. I should also mention that Portland's police cars have roses on them, the flower for which the city is known. Nice touch.
So while Portland is lovely and hip with some very neat features and cooler temps, I have to give the weird prize to my beloved Austin. I know, I'm biased. Weird is where you find it, and both cities have a lot of pride and their share of fun. Your city – if it's not already Austin or Portland – should be more like this!