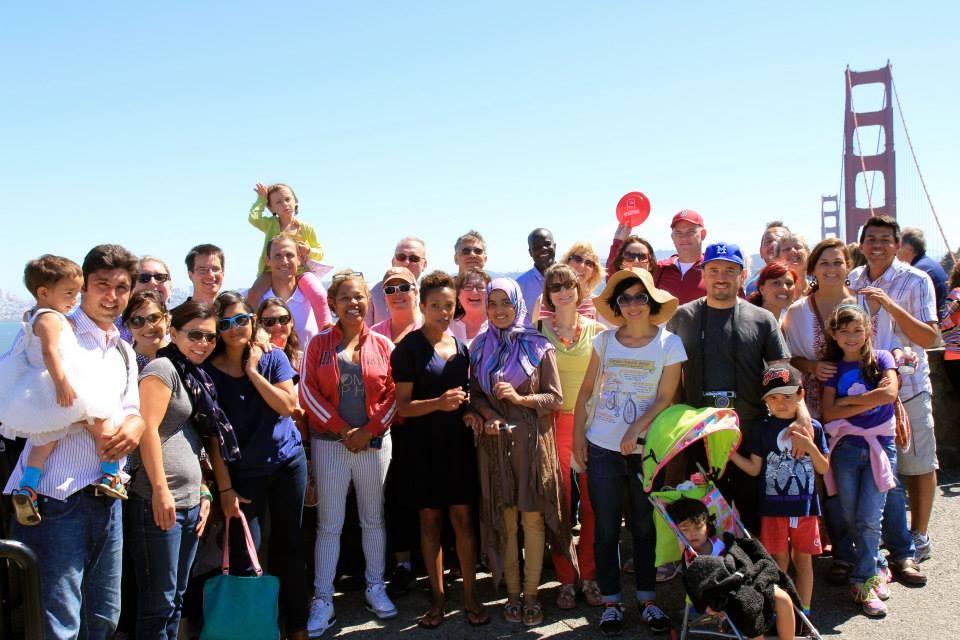 We started just a week and a half ago, but that seems like a lifetime. Since my last post, I have gotten to meet the fabulous fellows with which I will be spending the next year. I got a bike that I have been riding to campus every day. The weather started out a little warmer than I would have liked, particularly since I don't have AC in the cottage. But the past few days have been absolutely glorious. And compared to Texas, this is no problem at all. Kiley (kitty) and I are pretty much settled into our house, and I have been learning my way around the Bay Area.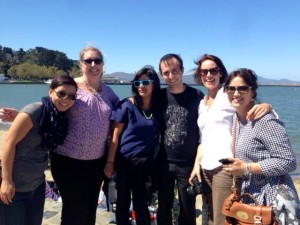 Fellows
The other members of the fellowship class are simply amazing. We have people who have recently been working in Afghanistan and Myanmar, people from Europe, Australia, Pakistan, China and South America. The program encourages spouses and partners to participate as affiliates to the program as well (they can also take classes and come to fellowship events), and there are activities that children are also able to attend. All the fellows and affiliates have really interesting backgrounds and experience. And they are all really nice, not a self-centered diva in the bunch. This is a credit to the people who make the selections. They have truly assembled a diverse and inspiring group. People have been fun to talk to and have been offering all kinds of help to each other, pet care, rides for those without cars, etc. And we've already got a few activities planned by other fellows in the works.  I am honored to be amongst these folks. I will learn a lot from them.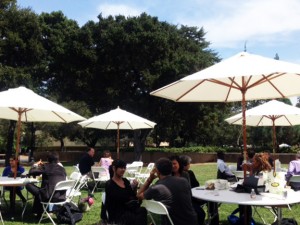 Orientation
I mentioned the team that makes the selections briefly above. The staff at the Knight Journalism Fellowship are top notch. So much detail goes into organizing this program. The orientation is 2 1/2 weeks long so that they can cover every aspect of Stanford and get us as familiar as possible before our first day of classes (Sept. 23). We have learned about each other, had talks about all of our benefits, tax issues, Stanford courses, meeting people on campus and around Silicon Valley. The staff is always available to help people with individual issues or questions. We have access to a variety of equipment and can use our own computer lab and Knight Garage (meeting space). Next week, we'll hear more about each others' projects, and we'll do a d.School workshop. We've had delicious breakfast and lunch served to us each day. Lunches are in a different location on campus each time, to help orient us to the campus. I am feeling very pampered and spoiled by all the attention to detail of the program.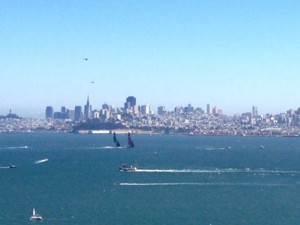 San Francisco Trip
We have a few group activities planned, the first was a trip to San Francisco last Saturday. We had a delicious brunch, sponsored by the fellowship, walked around downtown, the waterfront (got to see some of the America's Cup) and Golden Gate Park, and we took in great views from the Golden Gate Bridge and Twin Peaks. Dawn Garcia, the managing director of the program, served as a great tour guide, pointing out all the top spots and famous sites. All the other members of the Fellowship staff came along on the trip and people brought family members. We have a few other trips this year as a group, to Sonoma and to Monterey, and I plan to do a lot of sightseeing on my own all around the West coast. If you have any suggestions of places I must visit, let me know. I want to take a ferry to Sausalito soon, visit Half Moon Bay, check out some of the parks and then visit Southern Cal and Portland while I'm here.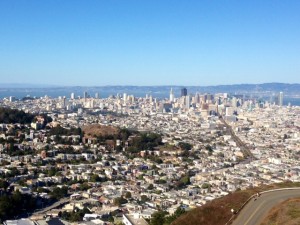 Commute Club and Bike Rental
I got a bike. The Campus Bike Shop rents bikes for the whole academic year, providing helmet and lock. They'll maintain it too, making adjustments and putting air in tires. That seemed like the perfect solution for me. I won't have to worry about what to do with the bike when I head back to Texas. Stanford has some really unique programs to encourage people to use alternative methods of transit to campus. I think a lot of universities could learn from this program. The Commute Club PAYS students, faculty and staff to not purchase a parking permit. Each month you go without a parking permit, you get $25. You can still purchase day parking passes to use occasionally throughout the month, at decent rates. Those passes come in handy when you absolutely need to drive, have a quick appointment after class or if the weather is really crappy. But the majority of the time, members bike or take buses to campus. The buses are plentiful, and those that are part of the university called the Marguerite shuttle, are completely free to ride. Biking and buses are really the way to go. It's so much more convenient than driving. Plus, for biking, the weather is mostly lovely (so far), and it's fantastic exercise. This is very different than my long commute in the car to San Marcos or my lame attempts at fitness by showing up at the gym a couple times a semester. Stanford also has programs for people who carpool, and they have a ride program for emergency situations – very well thought out and helpful programs.
Courses
I've been putting together a schedule, trying to pick from the multitude of courses that Stanford offers. There are so many things i want to take each quarter. I have to keep reminding myself of exactly why I am here and not veer too far from my programming goals. But the fellowship staff has encouraged us to move into new areas and to seek out courses that will benefit us in a holistic manner. We are also encouraged to tap into the resources of Silicon Valley.
So, my plan is to take several comp sci courses during the Autumn quarter, one of which I will be simply observing to get ideas as an instructor. And there is a very cool class called Cell Phone Photography that I am going to try to sit in on. I am also signed up for a Yoga class and will try to pop into other courses or seminars as they have interesting topics. I want to start attending Silicon Valley meetups, like Hacks/Hackers, but I need to do more research on the other popular and interesting groups. There are English and drama and symbolic systems and law and athletics courses and things the d.School offers that I want to take. There's no way I'll be able to do everything I want to do over the next year. But I'm going to give it a good shot!
We have some scheduled meetings each week. Monday nights are for fellows to each provide a more extensive "backstory." And on Wednesdays, we'll have seminars with various speakers from around the area. Don't know exactly who'll be coming yet. Details to come.
I can't even express how grateful I am to be in this program – all the special treatment and vast opportunities. I feel like a kid in a candy store. I know the time will go by quickly, and I just want to grab as much as possible.
Stay tuned.